It was a challenge to choose the top 10 best music documentaries of all time, but we got it done. While there are many worth seeing, these represent the cream of the crop and the recommended place to start viewing them.
If you're still excited for more documentaries about music after chewing through this list, then we have a handful of runner's up and some honorable mentions below, too, to keep the party going. Our decisions on which are the best come down to the entertainment value, the insight and education offered, and the topics they cover and those topic's impact on the industry as a whole.
No matter what genre of music you're into, you'll find something here for you. If you want to expand your enjoyment to new genres and musicians, there's no better way than to learn about it from the inside out. You'll also enjoy our Top 10 Best Movies About Music if you want to open it in another tab. Let's jump straight into the list of the best music documentaries of all time…
#10 – Don't Look Back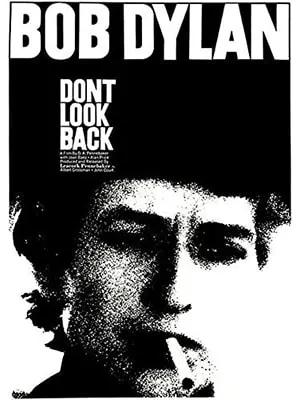 Director: D. A. Pennebaker
Don't Look Back is a 1988 music documentary about a young Bob Dylan, going about his life and work with other professional musicians such as Joan Baez, Alan Price, and Donovan. It gives a lot of insight into his personality, in which he exudes confidence, arrogance, charisma, charm, and a lot of confrontational tendencies.
This film was such a big deal that musicians have referenced it many times in their music, scenes have been satirized by Weird Al Yankovic and others, and served as inspiration for songwriters, sculptors, and movies.
Trivia Facts: Don't Look Back has been preserved in the United States National Film Registry by the Library of Congress, being considered "culturally, historically, or aesthetically significant." Film critics voted it and another (in a tie) as the ninth best documentary film of all time. The Criterion Collection has released a restored 4K transfer of the film.
#9 – Gimme Shelter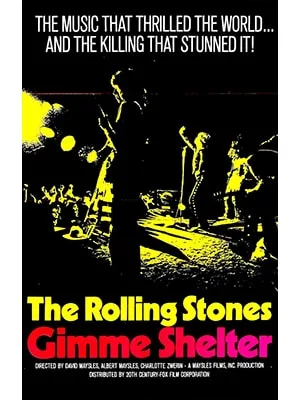 Director: Albert & David Maysles
Gimme Shelter is a 1970 documentary film that follows the final weeks of the 1969 US tour by The Rolling Stones. It ends with the Altamont Free Concert, which some thought would be the Woodstock of the West, but ultimately was stuffed full of so much controversy that everyone would like to just forget it.
The film follows the Direct Cinema philosophy of filming the events as they happen rather than investigating it after the fact. You're placed right in the thick of it as it's happening, and it's a riot (literally). When Mick Jagger arrives at the final concert, he's punched in the face as soon as he steps off the helicopter. It's wild.
Trivia Facts: The title of the documentary, "Gimme Shelter," is the lead song from The Rolling Stones' 1969 album Let It Bleed. One of the camera operators at Altamont was George Lucas, but his camera jammed after only filming around 100 feet of footage and none was used in the documentary.
#8 – Stop Making Sense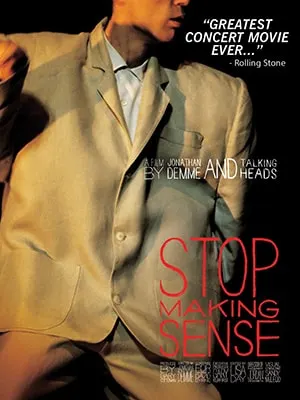 Director: Jonathan Demme
Stop Making Sense is a 1984 concert film documenting four nights of performance by the Talking Heads at Hollywood's Pantages Theater. What's cool is how the concert begins with David Byrne, a cassette player, and an acoustic guitar. Then song by song they introduce one more band member and a little bit more gear.
By the end they have a huge band and tons of music equipment out on stage and rock out hard. This is where David Byrne's comically "big suit" comes from. Live song versions from the film even went to become singles, climbing the charts and appearing in other movies.
Trivia Facts: The Talking Heads themselves raised the budget of $1.2 million to fund the film (and made about five times that much back). It was the first film to be made completely with digital audio techniques. It won the National Society of Film Critics Award for best non-fiction film in 1984.
#7 – Scratch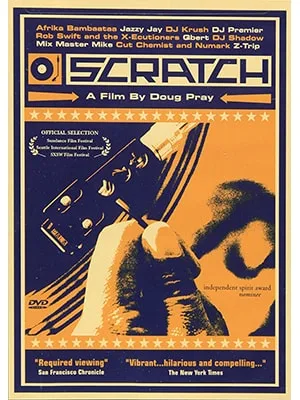 Director: Doug Pray
Scratch came out in 2001 and it delves into the art of the hip-hop DJ. It starts with the early days of hip-hop, moves through the development of techniques like beat juggling and scratching, all the way to the full blown skill of turntablism. It tells the stories of countless artists, like Mix Master Mike, the X-ecutioners, Afrika Bambaataa, DJ Premier, and literally dozens more.
This documentary did well enough that it won awards internationally and even spawned off two world tours of top DJs. If you enjoy it, you can even pick up the soundtrack. The critics all loved it, seeing it as a "warm welcome to an unfamiliar world." There's a reason for that…
Trivia Facts: The director himself didn't know anything about disc jockeys before filming this, only choosing to do so after meeting Mix Master Mike. So it gives a true outsiders view into the phenomenon. The documentary plays out in 6 chapters, taking you deeper into the art form.
#6 – Metallica: Some Kind of Monster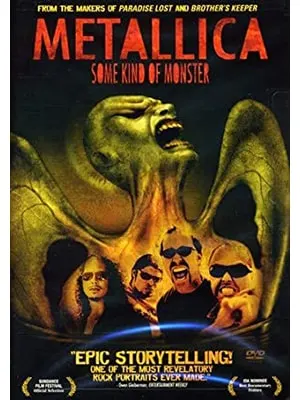 Director: Joe Berlinger & Bruce Sinofsky
Some Kind of Monster follows the band Metallica through studio rehearsals and live concerts. After its release in 2004, it started winning awards and ultimately was re-released in 2014 with a bonus documentary. It's a real honest look at the drama and hardships of being in a huge band and weighing the money with the loss of freedom.
It goes through their lawsuit against Napster, their bassist Jason Newsted quitting, and even basically going through group therapy to not break up, James Hetfield going to rehab, Kirk Hammett being frustrated at their choice to have no guitar solos on the new record, etc. It's a wild ride that has a happy ending in which St. Anger debuts at number one on the charts in 30 countries.
Trivia Facts: The title of the film comes from the song of the same name from Metallica's 2003 album St. Anger. It wan the Independent Spirit Award for Best Documentary Feature in 2005. The band bought out the rights to the film as it was being created to have more control over it, and even then fought with each other about what scenes should be cut or included, like Lars Ulrich selling some of art collection at auction for $13.4 million.
#5 – Sound City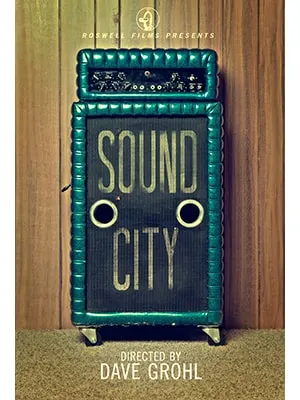 Director: Dave Grohl
Sound City is Dave Grohl's 2013 directorial debut (is there anything this man can't do?) about the history of Sound City Studios in Los Angeles. The idea for the documentary came from when Nirvana recorded Nevermind there in 1991 and Grohl ended up buying several pieces of recording equipment from them.
This studio is no longer in business but recorded some of the hottest acts of the 1990's and 2000's. It opened in 1969 and closed in 2011 and has so many stories to tell that this documentary can only touch on so many. Countless members of these top bands appear in the movie, though it only went on to earn half a million dollars due to mainly being released straight to home video.
Trivia Facts: 100% of critics that viewed Sound City gave it a positive review. The only gripe one of them had was that Dave Grohl was still inexperienced as a filmmaker. Duh, it was his first go. Despite this, it earned a Satellite Award for Best Documentary Film nomination.
#4 – It Might Get Loud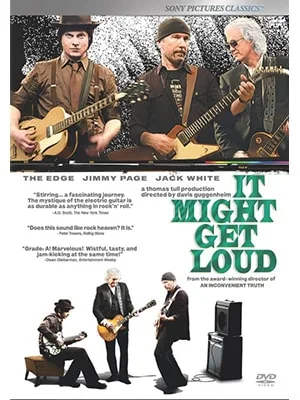 Director: Davis Guggenheim
It Might Get Loud came out in 2008 to much fanfare among musicians, especially guitarists. It stars Jimmy Page, The Edge, and Jack White, exploring not only their careers but their musical styles showing them experimenting together live during "The Summit." You learn of their past and development, ultimately culminating in them playing each other's songs and covers.
Watching three of the best guitarists of all time effortlessly dance between each others styles is interesting enough, but the insight into their lives and careers is the icing on the cake. Audiences and critics felt the same, netting a nice take home from the box office even with a small number of theaters carrying the film.
Trivia Facts: For the uninitiated, Jimmy Page played with Led Zeppelin, The Edge plays with U2, and Jack White plays with The White Stripes. The film earned $1.8 million worldwide, which isn't bad for such a niche documentary.
#3 – 20 Feet From Stardom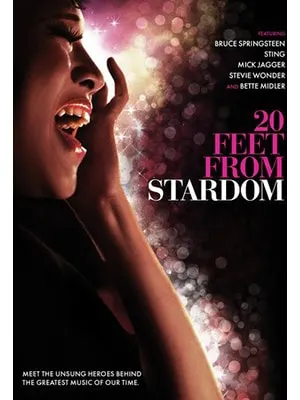 Director: Morgan Neville
20 Feet From Stardom is a unique 2013 music documentary, not about the most successful artists but their background singers who join them on stage. "I don't care about being famous, I just want to sing." Seeing art without ego makes this viewing worth every moment.
Much like uncredited session musicians, there's real magic going on behind the scenes that supports the big artists that get all the credit. Fans of musicianship will enjoy this, but if you're a musician yourself then this is mandatory viewing.
Trivia Facts: The film won the Academy Award for Best Documentary Feature at the 86th Academy Awards, among many other accolades. The budget was around $1 million and it brought in $5.8 million at the box office. It achieved a rare 99% approval rating on Rotten Tomatoes.
#2 – The Last Waltz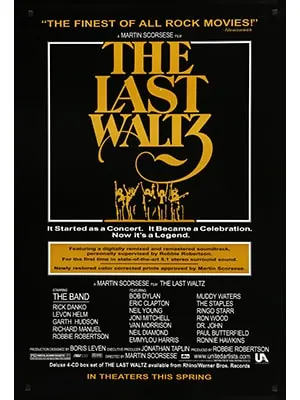 Director: Martin Scorsese
This 1978 film, The Last Waltz, managed to snag possibly the best director to ever do it. It's about the rock group called The Band that was known for backing Bob Dylan but were great in their own right. It's about their farewell concert of the same name, and features dozens of special guests like Eric Clapton, Neil Diamond, Joni Mitchell, and so on.
This was a such a huge event that they knew in advance to record a concert film as it happened. It not only shows the concert but also interviews with the artists and segments of them in the studio. It's considered the best concert film ever and is one any self-respecting musician needs to know intimately.
Trivia Facts: A triple-LP soundtrack of the performance of The Last Waltz was released and is now a four-CD box set. Illicit substances were flowing so much during this show that they had to be obscured from Neil Young's nose in post production.
#1 – Woodstock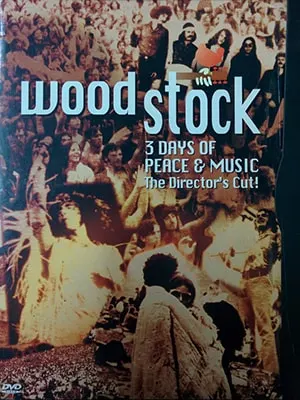 Director: Michael Wadleigh
Woodstock is the 1970 documentary covering the monumental Woodstock Festival. Roger Ebert said it's "maybe the best documentary ever made in America." This is as close as one can possibly get to attending the festival, and the re-releases contain even more featurettes, performances, and interviews.
Think about this: the film costed $600,000 to make but earned $50 million at the box office. And that's in 1970 money. That's how huge this festival and the excitement about it was. Everyone who didn't get to go saw this film, probably twice.
Trivia Facts: Woodstock won the Academy Award for Best Documentary Feature. The director's cut adds 39 extra minutes of film. The film required seven editors, including Martin Scorsese. The documentary is preserved in the National Film Registry.
Runners Up for the Best Music Documentaries of All Time
It was hard to boil down our selection to just a top 10. There were some we couldn't all agree upon that would have otherwise made the top part of the list, so we're calling these the runners up. These are all worth a watch, especially if you're into documentaries in general, let alone music-based ones.
Searching for Sugar Man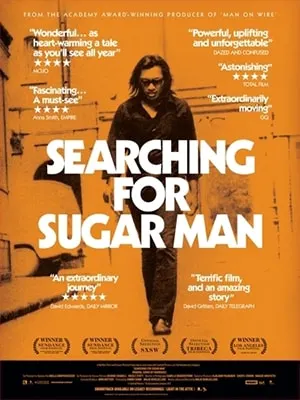 Director: Malik Bendjelloul
Searching For Sugar Man is a 2012 film about the American musician Sixto Rodriguez. Rodriguez became extremely famous and popular in South Africa but never achieved a modicum of success in America, and two fans from Cape Town attempt to find out what ever happened to their all-time favorite.
It was the opening film at the 2012 Sundance Film Festival and won the special jury and audience awards. This story is familiar to many artists that become one-hit wonders in the West but go on to huge acclaim in the East, like Scatman John, for instance. It gives a ton of insight into these strange cases that industry fans will find intriguing.
Trivia Facts: The filming started on Super 8 film but the budget ran out and the final few shots were recorded on an iPhone app called 8mm Vintage Camera to try to mimic the Super 8 appearance. It won at BAFTA and the Academy Awards for Best Documentary and countless more accolades.
What Happened, Miss Simone?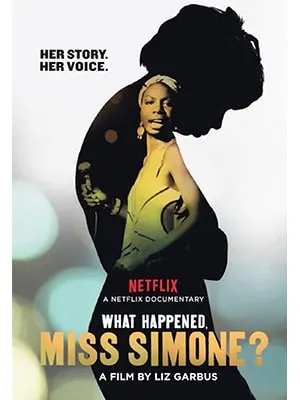 Director: Liz Garbus
What Happened, Miss Simone? is a 2015 biographical music documentary based on the life of singer Nina Simone, who eventually moved into civil rights activisim, ultimately moving to Liberia after the 1960's turmoil. It's full of archival footage of Simone plus new interviews with her daughter and her friends.
Nina Simone was a huge artist and respected person, and this film is so raw and open that some people come away with more respect while others dislike her uncontrollable and confrontational personality. As they say, don't learn about the lives of your favorite artists.
Trivia Facts: The title of the film is derived from a Maya Angelou quote. It was nominated for Best Documentary Feature at the 88th Academy Awards, but didn't take the win. It also was nominated for six Primetime Emmy Awards, winning one, and won a 2015 Peabody Award.
Something From Nothing: The Art of Rap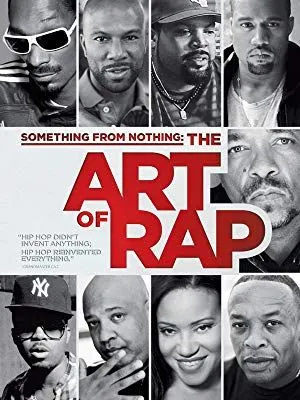 Director: Ice-T & Andy Baybutt
Something From Nothing: The Art of Rap is a 2012 documentary chock full of interviews with the most successful rappers. In fact, there's 47 of them included, and it's all hyper-focused on the actual methods of writing rap verses and ultimately performing them.
The filming occurred mainly in Detroit, Los Angeles, and New York, which is reflected in the artists you end up seeing (no Dirty South rappers, unfortunately). It was selected for the Sundance Film Festival, which most of these documentaries were rejected from, so that says a lot.
Trivia Facts: The soundtrack includes 15 of the songs from the movie plus seven freestyles. One of them is a Public Enemy song that appeared in the trailer but not in the full film, which is cool for all of us completionists out there.
The Carter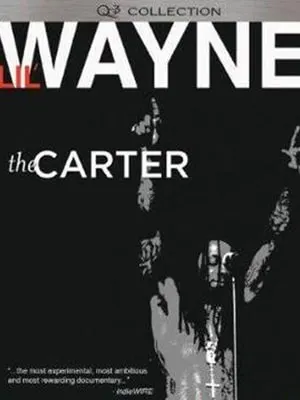 Director: Adam Bhala Lough
The Carter is a 2009 documentary about rapper Lil Wayne. It documents the time period before and after the release of the album Tha Carter III that went on to be a platinum record. It's so transparent and raw that Lil Wayne himself sued to block its release, which was dismissed. But eventually he managed to get it blocked from being sold.
It was a huge success despite the legal problems, which arose because Lil Wayne felt it showed too much, since the rap industry is like professional wrestling where everything depends on not being seen out of character. Everyone loved the film, saying it's one of the best ever and the most revealing about an artist.
Trivia Facts: Rolling Stone, XXL, The Hollywood Reporter, IndieWire, New York Times, HuffingtonPost, and Complex all included The Carter in their greatest rock and hip-hop films. Lil Wayne was contractually obligated to appear but sought $50 million in addition to blocking it's release.
Honorable Mentions for the Best Music Documentaries of All Time (2022)
Even with the runners up, it's impossible not to mention a handful of more that all deserve a shout out. There's still more beyond these, but we have to draw a cut-off line at some point. But definitely dive into these if you're still hungry for more.
Rumble: The Indians Who Rocked The World is a 2017 film that looks into Native Americans (Indigenous) musicians that helped shape rock music in the United States and Canada.
Kurt Cobain: Montage of Heck is a 2015 all about the life of the Nirvana singer.
The Black Godfather is a 2019 film about the music executive Clarence Avant who is a huge influence within the music industry though the public never really heard about him.
I Am Trying to Break Your Heart: A Film About Wilco is a 2002 documentary about Wilco's creation and distribution of their Yankee Hotel Foxtrot album.
Beats, Rhymes, & Life: The Travels of a Tribe Called Quest is a 2011 documentary about the career of the hip-hop group A Tribe Called Quest.
Beware of Mr. Baker is a 2012 movie about Ginger Baker, the drummer for Cream and Blind Faith and widely considered the best of all time.
Amy is a 2015 documentary concerning the life and short but meteoric career of Amy Winehouse.
Rush: Beyond the Lighted Stage is a 2010 film following the history and musical evolution of the progressive rock band Rush.
No Direction Home: Bob Dylan is a 2005 film by Martin Scorsese that follows the full life of Bob Dylan from birth to retirement.
Homecoming is a 2019 documentary about Beyonce's performance at the Coachella Valley Music and Art Festival. Documentary is written and directed by Beyonce herself.
Amazing Grace is a concert film shot in 1972 during a live performance of Aretha Franklin at the New Temple Missionary Baptist Church in Los Angeles. The film was supposed to be released in 1972 but due to technical and legal difficulties was only released in 2018.
I particularly enjoyed the ones about Amy Winehouse and Rush above, though they're all good. The Ginger Baker one is pure insanity (he's the best drummer of all time and a true nutcase). Heck, they're all good.
If you're enjoying these, you may not realize it but you're probably a prime candidate for being a huge fan of musicals. If you want to take that journey, we have a list of the Top 10 Best Musicals of All Time you can peruse. Anyways, please let us know if you'd change up this list of the best music documentaries of all time. We're all ears!
Top 10 Best Music Documentaries of All Time (2023 Update)
This is the table for the top 10 best music documentaries of all time. It contains their names and years of release.
| Position | Documentary | Release Year |
| --- | --- | --- |
| 1 | Woodstock | 1970 |
| 2 | The Last Waltz | 1978 |
| 3 | 20 Feet From Stardom | 2013 |
| 4 | It Might Get Loud | 2008 |
| 5 | Sound City | 2013 |
| 6 | Metallica: Some Kind of Monster | 2004 |
| 7 | Scratch | 2001 |
| 8 | Stop Making Sense | 1984 |
| 9 | Gimme Shelter | 1970 |
| 10 | Don't Look Back | 1988 |