You'd think this isn't that popular of a discussion but I can't count how many times I've argued about which are the best musicals of all time. We generally all agree on the same batch, but it's the order in which they rank, particularly the top three, where the real conversation begins.
As you read this list, you'll undoubtedly find some of your favorites and perhaps a handful you've heard of but haven't seen. I wanted to limit the list only to musicals that also had movies made of them, but in the end we didn't have to because the best musicals all have movies now. I just wanted to make sure you could view them immediately if interested.
If you enjoy these discussions, you'll appreciate our list of the best movies about music and best music documentaries as well. While both of those include music and even performances, none do it quite as well as the full-blown musical. So without further ado, here's the list of the best musicals of all time…
#10 – Hair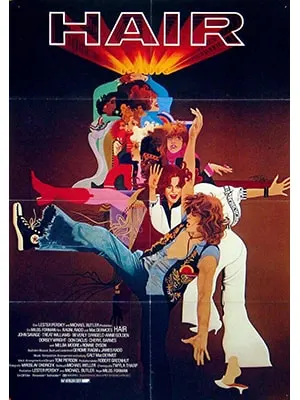 Starring: John Savage & Treat Williams
Hair is a 1979 musical with anti-war themes based on the 1968 Broadway musical. It's about a guy that gets drafted during the Vietnam era and on his way to be inducted into the army he meets a crew of hippies that change his perspective on everything. Heads up, this one is not for children due to the adult socioeconomic and political themes.
The movie ended up being a box office success and satisfied viewers and critics alike. It was nominated for several awards but failed to win them. If you're into the peace movement and more progressive values, this will be right up your alley.
Trivia Facts: The creators of the stage play weren't happy with the movie due to a number of changes to the story and omission of 10 songs, despite it featuring 27 songs already. You can't even fit all of the songs on two CD's, so I don't blame them.
#9 – Evita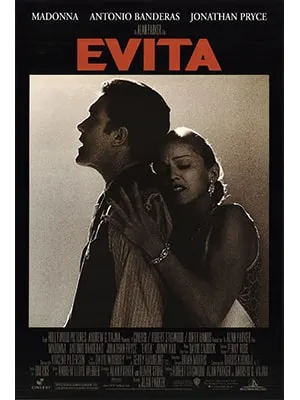 Starring: Madonna & Antonio Banderas
If you're into musicals you'll see the names Tim Rice and Andrew Lloyd Webber over and over. They're responsible for countless musicals (so much so that Webber is one of the richest musician of all time). And the work they did on Evita is equally incredible, supported by a wonderful cast.
The musical tells the life story of Eva Peron, Argentina's First Lady starting in 1946 until 1952 when her story comes to an end. As a character recollects her rise from poverty to becoming the spiritual leader of a nation in an attempt to trash her memory, he realizes just how incredible she really was. This is an extremely touching adventure and perfect movie.
Trivia Facts: The stage musical and film version were both based on a 1976 concept album. It took 20 years of development hell before the movie finally was released. The movie made a huge amount of money even with the critics moaning about it. It won tons of the top musical and movie awards.
#8 – Annie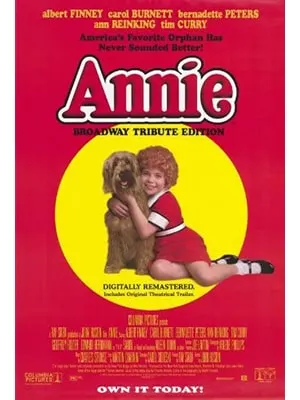 Starring: Aileen Quinn, Albert Finney, & Carol Burnett
The original 1977 Broadway musical only took 5 years to spawn off this classic 1982 comedy-drama musical film. All of it is based on the old comic strip Little Orphan Annie. She lives a hard knock life being mistreated in an orphanage until a billionaire offers to let her stay with him for a week. Before you know it, she's at the White House and being pursued by con artists pretending to be her parents.
This movie barely broke even at the time but became quite the phenomenon. Its songs are still regularly sampled by rappers today. It even had two remakes in 1999 and 2014, though the original remains the best. Aileen Quinn won both the "best young actress" and "worst supporting actress" at the same time, while the film was nominated for 11 other awards (both good and bad). It can't be both, and as we all know, the haters will hate out of jealousy.
Trivia Facts: There were some changes (for the better) to the story in the movie and an addition of five new songs while removing six songs. One scene was shot on a fake outdoor street that costed over one million dollars that was eventually cut from the movie and replaced!
#7 – Newsies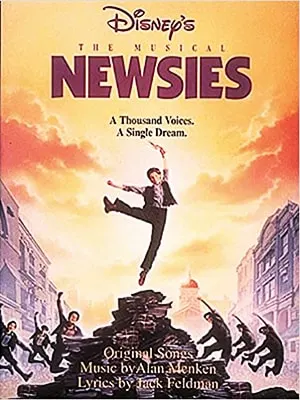 Starring: Christian Bale, Bill Pullman, & Robert Duvall
The Newsies has an incredible cast looking back at the 1992 Disney musical based on the Newsboys' Strike of 1899. The movie was a box office bomb but did so well on home video that it later received a Broadway stage adaption that was nominated 8 Tony Awards, winning two including Best Original Score.
The story surrounds a bunch of kids working as newspaper hawkers in New York City. Joseph Pulitzer raises the prices of newspapers and all of the newsies go on strike, and things escalate from there. Like others of the best musicals that became movies, it was a box office flop but made its money back on home video.
Trivia Facts: The Newsies is one of the lowest earning Disney movies ever, even though it still makes sales today on Blu-ray even, not counting what the Broadway play earned. It won one positive award and was nominated for 6 negative awards, which shouldn't even exist.
#6 – Chicago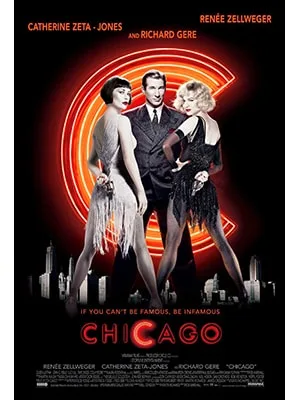 Starring: Renee Zellweger & Catherine Zeta-Jones
This film has a star-studded cast well beyond what we can list. This is the 2nd longest-running Broadway musical and deserved a big budget movie. And despite that budget it still (almost) made more profit than any other on this list. The stage musical came out in 1975 and it took until 2002 for a film to be made, and it was a huge success.
The story is about a woman who commits a series of heinous crimes (with song and dance mentally inserted everywhere) and meets similar women. Her goal is to become a vaudeville performer and the viewer gets to find out if this crime escapade will help or hinder that dream.
Trivia Facts: This movie won six Academy Awards including Best Picture, making it the first musical to win that award since Oliver! in 1968. This is a rare instance where the film is more praised than the Broadway play itself. It ushered in the re-emergence of musicals along with Moulin Rouge! and 8 Mile.
#5 – The Phantom of the Opera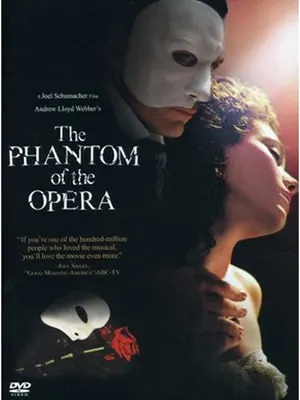 Starring: Gerard Butler & Emmy Rossum
This is another Andrew Lloyd Webber masterpiece created in 1986 as a stage musical. This 2004 film version was announced in 1989 and took forever to come out and then made gobs of money in the box office, even though the critics claimed to hate it (the audience loved it, of course). Emmy Rossum is one of the best vocalists you'll ever encounter.
The story revolves around a "haunted" opera theater and a phantom that lives in the catacombs below, who terrorizes the singers and sabotages shows in order to seek out his revenge. Of course, that's the the most surface level part of what's an involved and timeless story. It's the longest-running show to ever run on Broadway.
Trivia Facts: The movie was intended to star Michael Crawford and Sarah Brightman, but the delays put an end to that. They also tried to have John Travolta, Antonio Banderas, Hugh Jackman, Katie Holmes, and Anne Hathaway, who all agreed and even began preparing and taking voice lessons.
#4 – Grease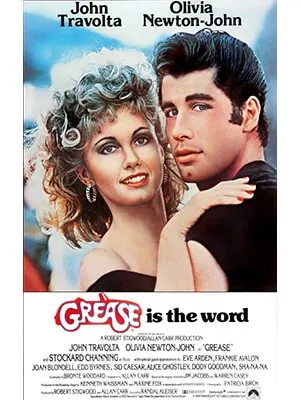 Starring: John Travolta & Olivia Newton-John
There's hardly a movie musical with more replay value than 1978's Grease (based on the 1971 stage musical). The storyline is simple: a greaser named Danny Zuko falls in love with a transfer student Sandy over summer break and think their relationship is over, until the new school year starts…
This was the highest grossing musical film ever at the time, largely because its budget was so tiny. The soundtrack brought home the bacon too. Critics loved it, it was nominated for tons of awards and won four, and has a storyline we can all relate to and enjoy over and over. You can't beat it, in my opinion.
Trivia Facts: Olivia Newton-John was already a Grammy winning pop and country singer when casted for this movie, and John Travolta was riding high off of Saturday Night Fever. The film spawned a fun sequel, a prequel in the making, and a TV series in Venezuela.
#3 – The Sound of Music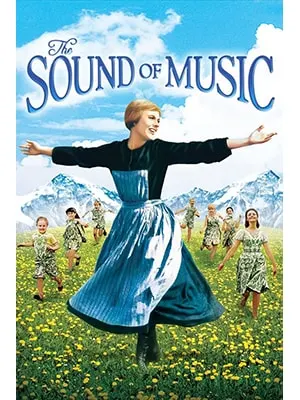 Starring: Julie Andrews & Christopher Plummer
This 1965 musical drama is based on the 1959 stage musical about a lady that goes to help raise and control a retired naval officer's seven children. She brings her love of music to their lives, and ends up marrying the guy, and that's just part of the story. There was a five year stretch where this was the highest-grossing movie of all time, and not just musicals!
This movie won five Academy Awards, two Golden Globe Awards, and many more accolades. It's all based on the memoirs of a real woman named Maria von Trapp. The soundtrack even reached the #1 spot on the Billboard 200 and stayed in the top 10 for 109 weeks. It holds a lot of records in various countries.
Trivia Facts: The movie was originally intended to star Audrey Hepburn before it became a musical. The stage play ran for 1,443 performances. This is the first American movie to ever be dubbed into other languages for international release.
#2 – Les Misérables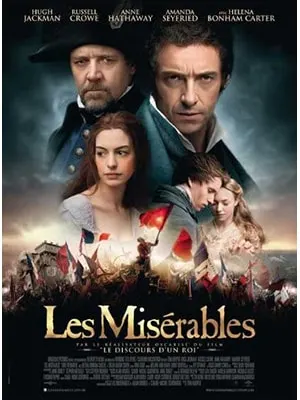 Starring: Hugh Jackman, Russell Crowe, Anne Hathaway
This 2012 movie is packed with big stars, far beyond the three mentioned above. It's an epic historical period musical based on the 1862 French novel of the same name and the 1980 stage musical version. The story is about a man in the 18th century being hunted by a policeman for decades and getting involved with a factory worker's family and daughter.
This movie's production started in 1980 and was passed between several major studios for decades before finally being made. It ended up being a smash hit with critics, viewers, and awards groups worldwide. I'd venture to say it was the most celebrated movie of the year. The number of awards it won and was nominated for are astounding.
Trivia Facts: The vocals weren't pre-recorded, but actually performed live during the scenes as you watch them, making it for more emotional and realistic. The release date was delayed in order to not compete with the first The Hobbit movie, and ended up having to compete with Django Unchained instead.
#1 – Jesus Christ Superstar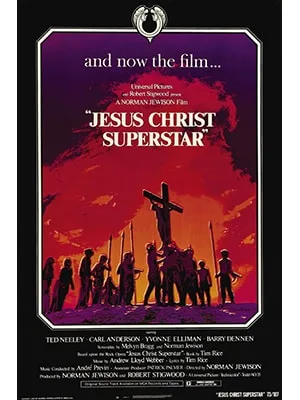 Starring: Ted Neely, Carl Anderson, & Yvonne Elliman
This is the all time best musical, written by Tim Rice and Andrew Lloyd Webber as a 1970 rock opera stage musical. The 1973 movie featured many of the same actors from the stage. The story is the extremely familiar story of Jesus. What makes it so potent are the songs, opening with the spectacular "Heaven on Their Minds." You see that scene and are already sold that it doesn't get any better.
Naturally, the stage musical was the subject of controversy for no good reason. The movie changed some lyrics to solve the problem and people were then mad that the changes were made. You can't win! The movie didn't make a ton of money, but the budget was so small that still was considered a big success. Watch this before any other on the list!
Trivia Facts: Jesus was almost played by Micky Dolenz from The Monkees or David Cassidy before Ted Neely was chosen. The film was primarily shot in Israel. A lot of the controversy was that we see a too much of Jesus' human side and Judas is a complex character instead of a villain. Pope Paul VI said he loved everything he saw, so take that!
Runners Up: Which Almost Reach the Best Musicals Of All Time?
It's really hard to choose only ten best musicals when there's so many more that could sit on that list or at least deserve a mention. So with that being said, here's five more that you may consider better than the ones mentioned above. Also, keep going below where we reel off a quick list of honorable mentions if you need more suggestions.
#10 – The Rocky Horror Picture Show
Starring: Tim Curry, Susan Sarandon, & Meat Loaf
Don't be fooled by the amount of people who like this musical. This 1975 musical is a comedy horror film that's not remotely family-friendly even by today's crazy standards. It's kind of like a Frankenstein story and could even be compared to Little Shop of Horrors (below) to some degree. But it's more focused on the seedy underworld of nastiness out there.
With all of that said, it's a fun enough ride for adults and one you should be familiar with. It's hugely popular and even is preserved by the Library of Congress in the National Film Registry. It still gets played in movie theaters and stage theaters today with great turn outs every time, with people dancing and singing along.
Trivia Facts: When this movie came out, nobody cared and it received poor ratings by the critics that were forced to see it. As the years went on, it slowly gained the biggest cult film following ever, with people having seen it over 100 times.
Little Shop of Horrors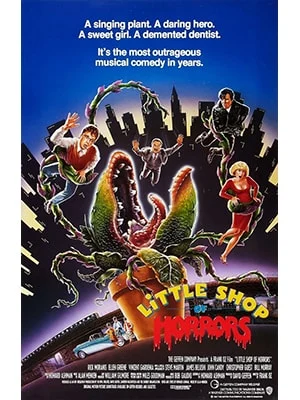 Starring: Rick Moranis, Ellen Greene, & Steve Martin
This one is chock full of comedians and is the most creative and wild story of all the musicals I've ever seen. It's based on the off-Broadway musical comedy of the same name. There's a 1960 movie that the stage play is based on. You want to see the 1986 version. They just don't make movies or musicals like this any more.
The story is about a florist who's a giant geek and super timid. He's trying to win over his love interest and in the meantime grows a Venus flytrap that starts speaking and demanding meat. It gets crazier from there but I don't want to say too much.
Trivia Facts: Martin Scorsese was going to direct and wanted to film the movie in 3D, but a lawsuit paused production. The film is very accurate to the stage musical except the ending was entirely recreated due to poor audience testing. The studio wanted Cyndi Lauper or Barbra Streisand for the lead female role.
Hairspray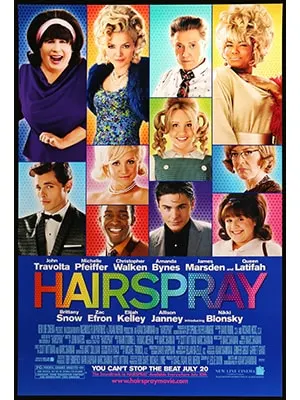 Starring: John Travolta, Michelle Pfeiffer, Christopher Walken
Trying to list all the stars in this 2007 musical would be impossible. It's based on the 2002 Broadway musical, which was based on a 1988 non-musical film. The story revolves around high school students navigating the social injustices of 1962, largely based around a local teen dance TV show and a beauty pageant.
There's 20 musical numbers, and while they stand on their own it's still interesting to see all of these various celebrities singing and dancing. It's one of the newest and most modern musicals and that makes it worth checking out. One challenge the movie had to overcome was the purposeful "campy" style of the stage show (being purposefully cheesy and bad to a degree).
Trivia Facts: The Broadway version won 8 Tony Awards in 2003. The story itself is about song and dance so it plays out very naturally. Many scenes were inspired by West Side Story and The Sound of Music. A sequel was being developed but was canceled ultimately, called Hairspray 2: White Lipstick.
Mary Poppins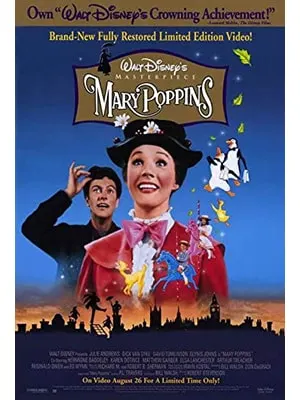 Starring: Julie Andrews & Dick Van Dyke
There's been newer movies, stage musicals, and even a sequel, but they all pale in comparison to the original 1964 Disney movie. It's about Mary, who's kind of a magical super-nanny (she literally comes down from the sky) who deploys her tactics to heal the dysfunction within a family, much of it including music and dance.
This movie made about $100 million in profit, gained 13 Academy Awards nominations and won 5 of them. It's preserved as "culturally, historically, or aesthetically significant" in the National Film Registry by the Library of Congress. It probably would have been an expansive property but the author of the books wasn't happy with the movie.
Trivia Facts: Thirteen songs were cut from the movie for timing and pacing. Julie Andrews achieved even more fame in The Sound of Music a year later. This film is considered Walt Disney's crowning achievement in regards to live-action movies and the only one to get a Best Picture nod while he was alive.
Mamma Mia!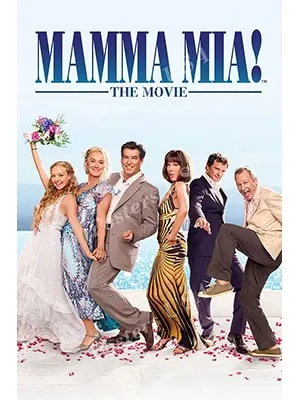 Starring: Meryl Streep, Amanda Seyfried, & Pierce Brosnan
Mamma Mia is a 2008 jukebox musical based on the 1999 stage musical, all written around the music of ABBA. It has an ensemble cast of big stars, all attending the wedding of a young girl in Greece. Each of the men are potentially her father and she's hoping to find out which while reuniting them with her mother.
This movie made gobs of money for having all of the ingredients needed for a top-tier romantic comedy. Add in the song and dance from many women's favorite actors and actresses and that was game over. It spawned off a sequel with most of the cast returning that did pretty well, too.
Trivia Facts: This was the 5th highest earning movie of 2008. It was filmed on location in Greece. The home DVD was the fastest-selling of all time in the UK, and best-selling in Sweden. The critics cried about it as usual, saying it felt like watching famous people do karaoke.
Honorable Mentions for the Best Musicals of All Time
There's still more musicals that the more-involved fan will want to know about. Some of these are in my top 10 but didn't quite make it when we polled everyone here at LedgerNote. Here are ones we liked but couldn't agree deserved a spot among the best of all time.
Hamilton is the current smash hit stage play with a movie coming very soon. It's entirely created by Lin-Manuel Miranda about the founding father Alexander Hamilton.
Wicked is a re-telling of the Wizard of Oz story from the perspective of the witches. By the time you read this the movie will likely be out and have been a decent success.
The Lion King is a great animated (and now CGI remake) movie, as we all know, but the musical also made its rounds to the excitement of fans nationwide.
Rent is a musical drama film that came out in 2005, nine years after the Broadway version. It's about a bunch of degenerate Bohemians struggling to hold it together in New York City.
West Side Story is another story with NYC as the location. This time it's a couple of street gangs being rivals while one leader falls in love with the other leader's sister.
Beauty and the Beast has always been a favorite, either with the animated or the newer live-action version. The stage musical made a return and did the rounds to much fanfare.
Singin' in the Rain is a 1952 musical about the state of Hollywood in the 1920's, where the three main stars have to transition from silent films to "talkies."
Sweeney Todd is a crazy story about a barber in London around 1846. He ends his customers and cooks them into meat pies. It's ridiculous and fun, but the film is a bit graphic.
Fiddler on the Roof is a 1964 musical taking place around 1905 as a father struggles to maintain his cultural identity while his daughters marry into other cultures.
Cats is a 1981 Andrew Lloyd Weber production that people like for some reason, even after the abomination of a movie that just came out. It's about cats who argue over which gets to go to heaven or something. It's pretty nonsensical.
La La Land came out in 2016 and scooped up all the awards. It's about a musician and an actress falling in love and having to make hard choices between their dreams and their relationship.
If you work your way through every musical in this list and still are looking for more, you can always start watching all of the Disney movies that are basically animated musicals. There's a lot more than listed here otherwise, but they aren't all necessarily that good.
These are the best musicals of all time, and unless you're just itching for it, I don't think you have to venture much further than these. Have fun!
Top 10 Best Musicals of All Time (2023 Update)
This is the table for the top 10 best musicals of all time.
| Position | Musical |
| --- | --- |
| 1 | Jesus Christ Superstar |
| 2 | Les Misérables |
| 3 | The Sound of Music |
| 4 | Grease |
| 5 | The Phantom of the Opera |
| 6 | Chicago |
| 7 | Newsies |
| 8 | Annie |
| 9 | Evita |
| 10 | Hair |