Few people live a life of such authenticity and genuine realness that it impacts entire cultures. Even fewer do that while sharing positivity with the entire world.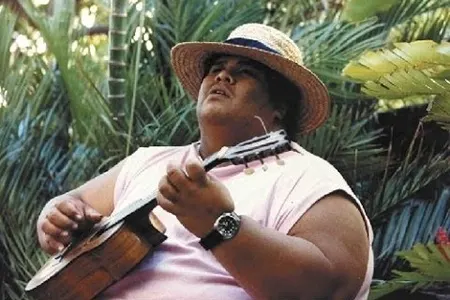 The Bruddah Iz's Backstory
Israel Kamakawiwo'ole has quite the name, which is why people took to calling him Bruddah Iz. He was born on May 20th, 1959 and passed away on June 26th, 1997.
Iz came up in the community of Kaimuki where his uncle Moe Keale was already making a name for himself as a notable Hawaiian musician. By the age of 11 he was already getting involved in the scene, singing with his brother, cousin, and later in a group called the Makaha Sons of Ni'ihau.
During this growth period, he was becoming increasingly proud of his heritage and noticed that most of the music that was being associated with Hawaii wasn't even traditionally Hawaiian. He sought to change this.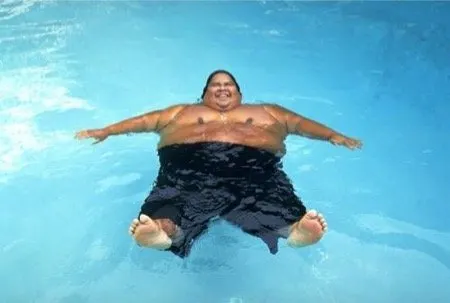 And change it he did, bigger than anyone else could have done it!
Israel's Accolades
As time went on, Kamakawiwo'ole began releasing solo records starting in 1990 with Ka 'Ano'i. This album netted him the award for the best Contemporary Album of the Year and also the Male Vocalist of the Year from the Hawai'i Academy of Recording Arts.
Then, in 1993 he dropped his next album called Facing Future (my personal favorite). This sucker debuted at #25 on Billboard's Top Pop Catalogue chart and became the first Hawaiian album to be certified platinum! This was before his single was even promoted. All of this activity earned him the award of Favorite Entertainer of the Year in 1994.
Again, in 1997 Iz was awarded a whole ton of honors for his 1995 released entitled E Ala E. We're talking Male Vocalist of the Year, Favorite Entertainer of the Year, Album of the Year, and Island Contemporary Album of the Year. He watched these awards be offered to him on television from his hospital bed…
You'd think he'd peaked out at this point, but nope. Alone in Iz World came out in 2001 (posthumous release) and debuted at #1 on Billboard's World Chart, #135 in the Top 200, #13 in the Top Independent charts, and #15 in Top Internet Album Sales.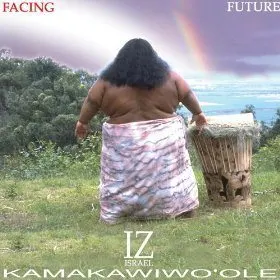 Facing Future ultimately has become and maintains the record for the best-selling Hawaiian album of all time.
The Single That Spread Iz Across the World
When recording Facing Future, the album was completed and about ready to be sent off to the presses when Iz's producer Jon de Mello suggested they add a medley that Iz liked to play casually in his down time. Iz had an amazing mash-up of…
Somewhere Over the Rainbow / What a Wonderful World
This single was promoted in the United States as a whole, hit the internet, and the rest was history. Here's a video for the song that will give you great insight into the life and pleasant attitude of Israel Kamakawiwo'ole:
I learned about Iz from hearing this song on a movie (it's been in tons of movies and TV shows at this point) and then later re-encountering it online and recognizing it. I immediately ordered the album it was on, Facing Future, and ended up picking up Alone in Iz World as well.
Iz's Death & Legacy
Bruddah Iz passed away in 1997 from medical conditions related to obesity. It's a very sad story, because on the intro track to Facing Future he relates the story of how obesity has been an issue in his family. His father died of the same conditions and asked Iz to be the one to break the cycle and Iz sincerely tried. During his rise to fame, his brother died of the same situation.
Israel seemed to tie this familial illness in his mind to the history and challenge of Hawaiian's to maintain their culture. It was very personal and meaningful as you discover as you listen to his music.
Unfortunately the brother Iz continued to gain weight, reaching as high as 757 pounds. His respiratory and heart issues began to compound upon themselves and Iz passed away at the age of 38, leaving his wife and daughter behind to honor his memory. But this honor wasn't theirs alone!
On the day of Israel's funeral, the state of Hawaii flew its flag at half-staff. This honor had only been bestowed upon two people previously, both members of the Hawaiian government. They also allowed Iz's coffin to "lay in state" in the state capitol building in Honolulu so that all of his loving fans could come by in remembrance of his contributions to the culture.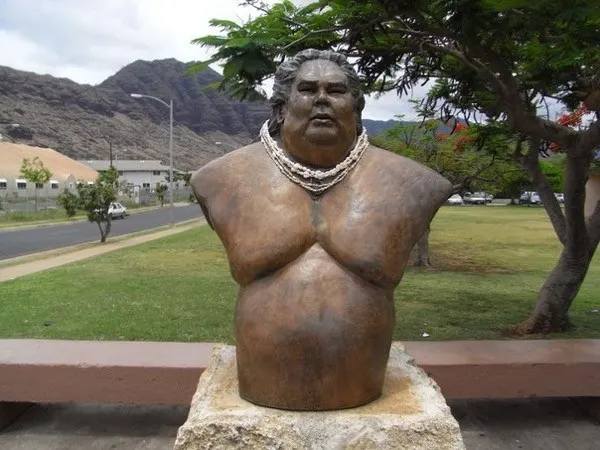 In 2003, hundreds of fans, friends, and family came to the reveal of a bronze bust of Iz being unveiled in the Waianae Neighborhood Community Center on O'ahu. This is how amazing this guy was!
Even to this day, Iz is still earning awards and honors. NPR named him "The Voice of Hawaii" in 2010 and Echo, the German national music award was awarded to Iz in 2011! Think about that for a second…
Thank You, Israel Kamakawiwo'ole!
I personally have family in Hawaii to this day. The culture is strong. Even without having been to Hawaii ourselves, my immediate family is still positively affected by the lifestyle and beauty of the islands. Thank you, Iz, for keeping the native culture strong and alive! You accomplished your goal in ways you'll never realize. You have our never-ending respect and love.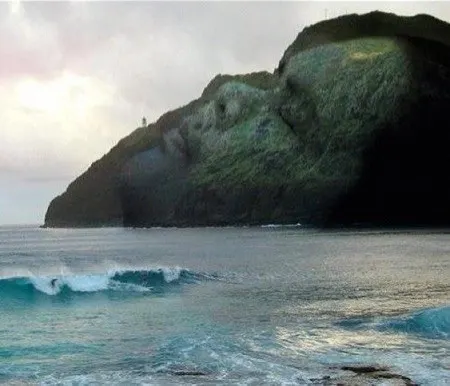 Please use the social icons below to share this with others you know that are inspired by Hawaii and it's people! Spread the Iz!