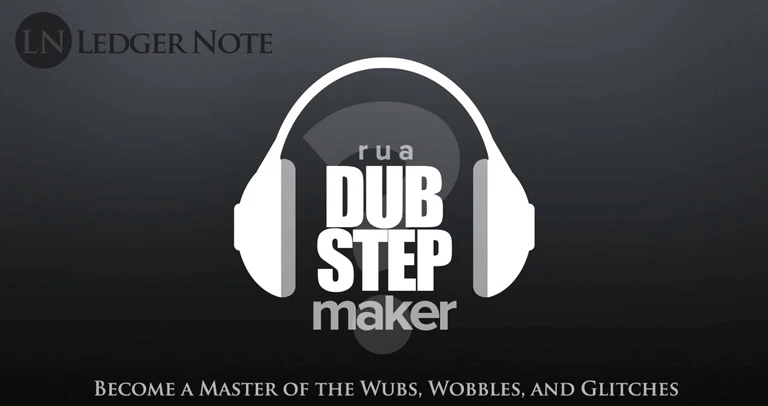 My brother and I finally set out to making another rap album just for fun between ourselves, and I had always promised myself that I'd become a dubstep maker and make a beat for us to drop some phat rhymes over. It's been at least five years or so since dubstep made a large splash in the states and gained popularity.
And it took about that long for companies to create tools that make it easier for someone like me to produce a quality dubstep track without having to spend an entire week messing with 100 automation parameters.
You're talking about a serious level of complexity and time commitment tweaking every single parameter and dialing everything in to quantized sonic perfection. It's a challenge of artistic sensibility and technical ability (and patience) in the DAW.
For someone like me, with the knowledge of how to set up plugins and effects on the mixer and assign them to automation tracks in the multi-track, and then even what to do from there to produce the sounds that I liked… it was still to much for me.
Then I think about all of the folks who don't have a decade behind a mixing board and within a digital audio workstation trying to figure this out. It'd literally be impossible, which is what made dubstep so cool. Even professional techno and electro mixers who scratch and have other methods to develop similar sounds would be intimidated by this.
But I wanted to be like Skrillex, Skrux, and Bassnectar, not those other guys! The kings creating and developing this new sub-genre are heroes in my mind. I wanted to be able to reproduce what they were doing to some degree.
Heck, I have to uphold my reputation as the computer nerd music guy that can make anything happen. I particularly wanted to focus on Brostep's robotic fluctuations and metal-esque aggression in the middle register of the frequency spectrum.
Luckily, as I was mentioning this to an online friend, he told me about this certain set of software plugins for your DAW that had come out recently that made this genre completely approachable for anyone, but still didn't dumb it down to the point where you're only using loops and sucking the creativity out of the process.
Authenticity is important to me. When I snagged this software and opened it up, I was thrilled to find all of tempo syncing options, because they showed me the path and helped me understand what it was I wanted to create. And I did make a dubstep beat and you'll hear it below…
Let me explain the process for the purists (like me usually) who want to create every single wub and wobble from the ground up, then I want to tell you about this software plugin suite and other types of gear that will aid you in your dubstep creator endeavors.
Before we get started, let me go ahead and let you hear the final result of the track we put together for our album. This'll get you in the right frame of mind as you read along:
You beat makers out there may laugh, but I'm proud of that one. I tried to mix in some trap beat patterns too. By the way, you can download Dubstep is Destiny where I uploaded it to the official LedgerNote Soundcloud page. We'll make the full version with vocals available when it's ready.
Sounds for the Dubstep Maker Purist
To really pull off what many people are going to consider as genuine, authentic dubstep beats requires a lot of work and time. Here's a basic summary to explain how crazy this is.
Understanding the Synth and Effects
It essentially starts with synthesizers and MIDI data. You might use your synth or drum machine to fire off one-shots or you'll create long sustained notes. It's up to you and your end goal. Think about what all of the wubs and wobbles sound like… they are a complete and masterful manipulation of:
pitch
time-stretching
amplitude
flangers
bit-crushers
panning
and more…
But they aren't static. You don't just create the preset you want in your plugins and magically you get out a killer wub wub. Being a legit dubstep maker isn't that easy.
We haven't even mentioned low frequency oscillators, parametric equalizers, parallel compression, and the rest. You have to dig into the automation and get these synths sounding how you want before you can polish them and sync them to your drum pads.
Automating the Effect Parameters
At this point you've built your beat and laid out your various synths that will act as your bass, lead, and whatever glitches you might include.
You've got to chop and screw them in a sense, like old school hip hop style of beat production, before you end up with anything that resembles dubstep, let alone arranging them in the classic style of dubstep drum patterns with the build up and bass drop.
Once you're there, you have to know how to activate automation on your sequencer. You should be able to access each effect mentioned above, but not likely at the same time which only ups the difficulty of pulling this off properly.
You'll be able to switch effects and draw the automation, much like seen below in various DAW's: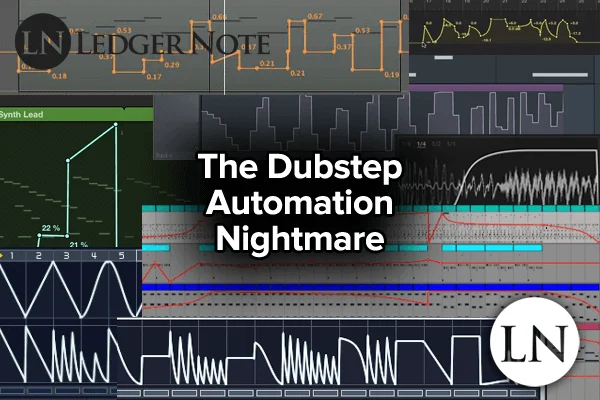 If you understand all of the stuff I'm talking about above then you know where this is going, so I'm not even going to get into the rest of the process because I don't want to lead you down this horrific path when there's a much better way now.
A Warning Concerning Specific Dubstep Software
I was in the same spot you are in now, looking for something to help you make some dubstep music. I also waded through a million websites full of crap and false recommendations.
Surely, before you landed here on LedgerNote, you saw the same nonsense recommendations of stuff like DubTurbo, Dr. Drum, BTV Solo, Wobbleboss, and the list goes on.
Being a part of LedgerNote means I know how all this stuff works. Those guys are promoting those products because they get a huge commission from convincing you to buy them.
They are all being sold through a marketplace called Clickbank that's designed for internet marketers to sift through, find products willing to give them the largest portion of the profits, and then sell it as aggressively as possible.
To put it frankly, they're in it for the money and probably aren't even musicians. The creators of the software even manage to give themselves a fake 5-star rating and high selling gravity. Everyone's getting played in this situation.
Please don't get me wrong. I'm not saying that those products are complete garbage. But they are definitely not meant for musicians who know how to operate a DAW. They are meant for someone to pay $30 and immediately download the software, tinker with it for a few days, then forget about it.
If you keep digging past the online reviews like I did (because I'm real careful about spending my money), you'll see a lot of real people telling you about how they immediately turned around and got a refund due to the misleading marketing by their affiliates.
So yeah, if you're just looking to goof around for a bit and then abandon your quest, by all means scoop up one of those tools.
If you're an actual musician and not a hobbyist, you need a legit DAW. There's goofy, specific dubstep software that I'm warning you against. Get a real production suite!
Disclaimer: If you click on the product links I'm recommending here, you're going to be taken to Amazon.com (the least shifty online marketplace ever). LedgerNote makes a small amount of money from a sale, like less than 6%. Certainly not 75% and definitely not high enough that it's worth me leading you down the wrong path like those other guys are doing.
I was in your same shoes and I even tried DubTurbo. It was okay. It was also buggy and limiting, leaving me to choose from a set of loops and one-shots versus actually designing my sounds.
The others do the same, which is why I didn't bother trying them. "Using dubstep making software" isn't going to move you into the realm of becoming a professional any time soon.
As I was saying, you need an actual DAW from a big, trusted company, designed for making music of every kind without limitation.

What's a DAW?
DAW stands for Digital Audio Workstation. If you aren't aware of the acronym, you still know what I'm talking about. I'm talking about Pro Tools, Logic Pro, FL Studio, Ableton Live, etc.
These are full blown music production suites with no limitations. And as nutty as dubstep is, the last thing you want is something constricting your creativity.
He who makes the craziest tracks wins in dubstep. The big guys make remixes of RnB, classical, and all types of other songs. Nothing is off limits!
My guess is that most of you have some kind of DAW already, even if that's Garage Band or Cool Edit Pro. You want one, because the actually-good tools I'm about to tell you about are plugins for DAWs, not standalone software.
If you happen to be in the position where you don't own a DAW, you need one if you're seriously going to pursue music as a professional or an in-depth hobby for pleasure. If you stick with the big names, they all essentially do the same thing with the same features.
Some are more expensive than others. The two leading DAWs are Pro Tools and Logic Pro, but they are ridiculously expensive and require you to also buy their tools or an Apple computer (which is also pretty pricey).
The reason you'd want one of those eventually is if you intend on collaborating and sharing projects with other musicians. The professionals are using one of those two.
If you're new and largely planning on working by yourself or at least bringing collaborators into your own home or studio instead of shooting files around, take a look at:
Let's discuss each shortly below and then we'll move on to the plugin downloads and hardware solutions.
FL Studio
I started with FL Studio back in the day when it was just plain old Fruity Loops. It's very approachable for beginners and intermediates and has an awesome user interface. There's pros that use this as a dubstep creator software. It's grown an amazing amount in the past 15 years.
It features one tool that most other DAWs don't which is a beat sequencer (a.k.a. channel rack). It simplifies the process of layering drums and using one-shot sounds (both of which you'll be using a lot of in your dubstep songs). It keeps you from dealing with the MIDI piano roll for tasks that don't require that much complexity.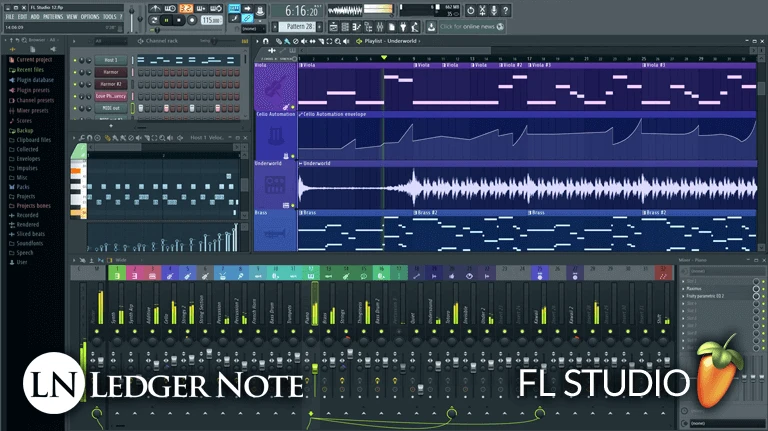 Heads Up: If you go for FL Studio, at least get the Producer Edition. The Fruity Edition doesn't let you record into the software, it only let's you make instrumentals. Also, the Producer Edition includes a lot more plugins you'll find useful. I personally don't think you need to go higher than Producer. You're just buying more plugins.
Ableton Live
The reason I'm suggesting Ableton Live is that they have a focus on all types of electronic music and integrate with tools directly designed for this purpose, whether those be MIDI controllers or Pad controllers (the grid of buttons, you'll see below if you're not sure).
What's more is that they automatically sync up to Ableton to distribute the sets of sound fonts across the keys and pads in the most sensible manner. We're talking about a serious time saver if you're going to perform live or enter your MIDI data using a controller.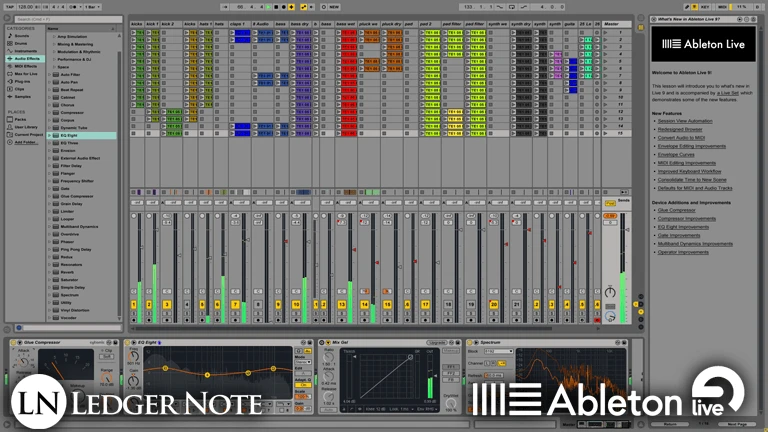 Heads Up: If you go for Ableton Live, at least go for the Standard version. The Intro version is severely limited. You can only have 16 tracks (not remotely enough for dubstep) and only 4 inputs and 4 outputs. Worse, you can only have 2 sends and returns, which basically means your mixing ability is going to be extremely hindered.
If you score the right version of either of those, you're heading in the right direction for a lifelong dubstep maker software companion.
If you already have a DAW, I apologize for that giant tangent. I can't leave the newcomers hanging out to dry with not enough information! So, on to the plugins I mentioned… Enter the SONiVOX Dubstep Destruction Tools…
The Dubstep Maker Supreme: SONiVOX

When my friend showed me these "Destruction Tools", I was skeptical because I know how complex this whole process is. I always figured that if someone could simplify the creation of dubstep, they should receive a Nobel Peace Prize or something.
Well, write to your local congressmen and suggest SONiVOX, because they've done it. I wish I'd known years ago this dubstep production software even existed, let alone was this good.
UPDATE: It appears that these plugins are seeing a decrease in availability. Amazon has varying low numbers in stock depending on when you check. If you find that this set if available to order and you feel that it's something you're interested in, don't contemplate it for too long or you might miss out.
– Check out Native Instrument's Komplete 10 as an equally good and possibly superior alternative.
What It Is
The SONiVOX Dubstep Destruction Tools are a set of four digital audio workstation plugins designed to rid you of the automation demon once and for all. There are four plugins, and although each can be acquired separately the strength is in their combined abilities. They are:
Wobble
Twist
Pulse
Vocalizer
Rather than bog you down with all of that functionality in one place, they busted them apart. But that's not a recommendation to use only one. Let me tell you what each does separately below.
How It Works
To put it simply the Dubstep Destruction Tools are what are called plugins. You'll see terms like VST (Virtual Studio Technology), AU (Audio Units), and RTAS (Real-Time Audio Suite). They are all basically the same thing and are just different names used by different companies.
That's mainly how you'd be using these, as plugins for your DAW. However, each does have a standalone mode too for live performance and practicing at home.
As we were saying, each plugin is unique in it's purpose. Let's look at each separately.
Wobble
What they are calling "Wobble – The Dubstep Grime Generator" is your essentially your bass plugin. It has four different interface screens. Here's the main one: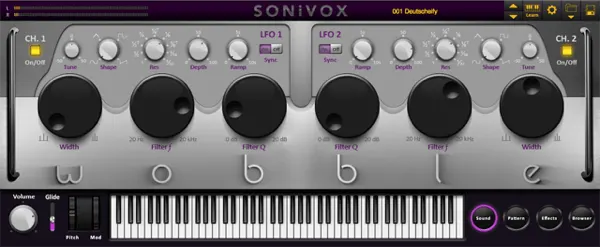 What you have is two independent channels that can be stereo or combine to be mono to form the bass portion of your dubstep song. You know the typical low frequency wobbling sounds used… that's what this produces.
You have control both LFO's (low frequency oscillators), the parts that create the swaying aspect of the wobble, where you can design the sound much like a parametric equalizer. You set the Q, or width in the frequency spectrum, of your sound design using the Width knob. And then you can choose where to center those Q's using the filter knobs.
You design the synth wave using the smaller knobs up in the LFO area. In addition, you can tweak the pitch and choose how smooth the glide (portamento) between notes is as well. Each parameter can be used with automation too, so you can really dig in and design every moment of your song.
Yes, while these plugins reduce the amount of automation you'll be doing 100-fold, you can't escape it entirely and won't want to. That's what makes dubstep what it is.
Other screens allow you to set up delays, choruses, and reverbs to get that spaced out effect of the chill style, or you can go dry and clear cutting like the more aggressive styles. Zero limitations.
The Best Parts: The whole thing is the bomb. With that being said, I do have two favorite aspects of this plugin. The first is the preset synthesizer sounds that are pre-built as jumping off points for you. That way you're not starting at ground zero but it's still YOUR sound you created. The second is the tempo sync of the pattern generator. That the game changer, because…
The Pattern Generator portion of the Wobble plugin is the part that's going to save you countless hours tweaking MIDI data and automation parameters. Basically, once you generate your wobble waveform, you then can go in and choose the sustain of each note. So you can have whole note and then a quarter note, and then a set of triplets, etc.
You're not going to want the same wobble the whole time, of course. SONiVOX totally removed the hassle of creating super complex rhythms for your wobbles. The best part I mentioned is that these rhythms automatically sync to the tempo of your song. No more hours in the piano roll and automation panel!
Check out the official SONiVOX overview for the Wobble plugin above. You'll see how awesome this thing really is… now imagine combining it with the other plugins! Let's look at Twist next.
Twist
Where Wobble is for the bass portion of your track, I think of and use Twist for the middle and high frequency portions of my dubstep songs. Here's the front interface screen for "Twist – The Spectral Morphing Synthesizer."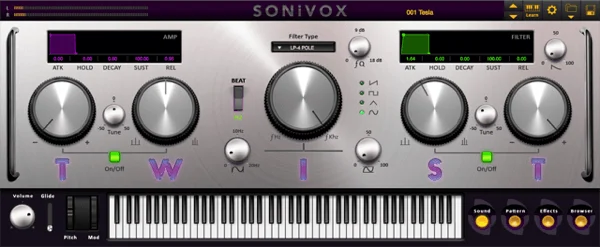 I'll save you time here. This pretty much works just like the Wobble plugin but with a focus on the upper registry of your sound design. With this plugin, you're creating your wubs and glitches, the parts that really get the listener going.
It has all of the same settings as Wobble including the harmonic tuners, spatial effects, pattern generator, and the tempo sync feature (praise the gods). There are some different features I'm including as the best parts…
The Best Parts: The filter envelope generators save a ton of time helping you sculpt the core of your sound. Jump between square, sawtooth, sine, and triangle with the click of a button. Those are your four essential synthesizer waveforms. Tweaking bass sounds isn't as hard as your main melody or harmony sounds. Twist includes over 200 presets to use or treat as jumping off points. Oh, the time savings!
As always, every single knob and button can be controlled with automation. Check out this video. It's not as in-depth as the previous one but it still gives you an overview of the capabilities of this plugin.
Twist is what you need to for designing your main dubstep sounds, without a doubt. Combine that with Wobble for you bass and you're already leagues beyond trying to start from the ground up, all without being dependent upon loops (lame). Now, if SONiVOX isn't your hero yet, wait till you get a load of Pulse.
Pulse
Now we're ready to talk about drums with "Pulse – The Advanced Production Instrument."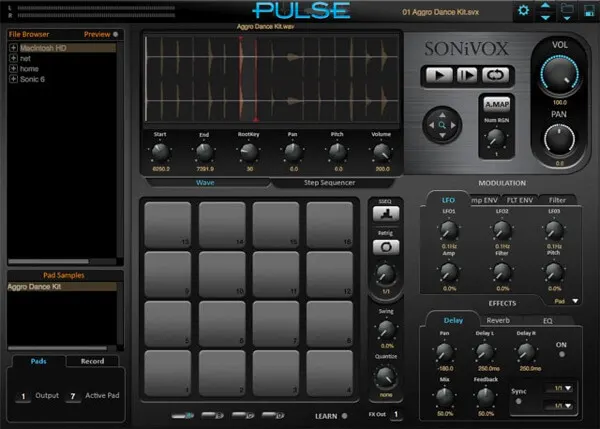 The main attraction of Pulse for me is the selection of sounds provided which are specifically chosen for the dubstep maker. You can stop hunting through a thousand drum sound font sets hoping to find one that works. But those that you did find in the past can be imported into Pulse so you have access to your whole collection in one spot.
The second thing I like about Pulse although it doesn't apply to me specifically because I won't be playing live is that it's set up in an MPC button grid fashion. While you can type in each drum with your mouse, you can also play your beats into Pulse using a MIDI pad grid and then quantize it.
Boom, you're done. This means that you're getting practice on your launchpad in case you ever want to perform live and you can use Pulse when you do, since it integrates seamlessly.
The Best Parts: Pulse comes with 400 drum kits, not just sounds but entire kits specifically chosen for dubstep production! Each sound can be changed up with the modulation and effects knobs as well, so the possibilities are truly endless.
I like that you can figure out a drum pattern in your head, bang it out on your launchpad, and then go back in and edit it, add fills, copy and paste, etc. All of the time savings this provides, on top of the ridiculously high quality, means you can spend a little more time tweaking custom fills and making more patterns. That's the kind of ear candy that makes dubstep so awesome.
As you see, you can mix your drums live right there in the plugin. That's awesome for live performance and mix engineers who are used to mixing entire drum kits on a room and overhead mic.
So check this out. We've talked about the bass, lead instruments, and now drums. The only thing that's missing is vocals! That's where Vocalizer comes in.
Vocalizer
No dubstep song is complete without some tweaked up vocals! That's where "Vocalizer Pro – The Vocoder & Re-Synthesis Module" comes into play.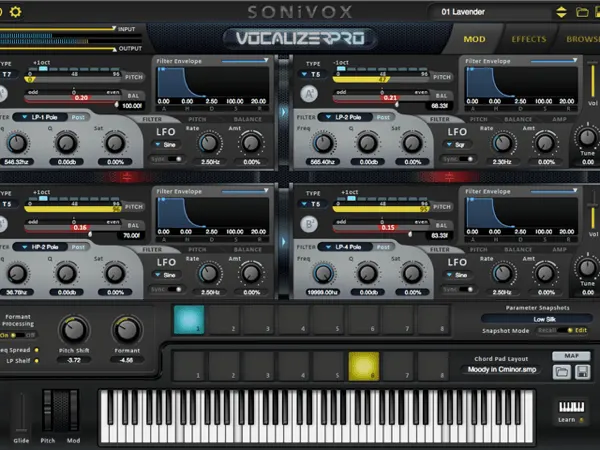 Vocalizer Pro is partially an instrument and completely a synth processor. While you can pump any stream of audio through its various filters and effects modules, the main purpose is to enhance your vocal takes.
The Best Parts: Without a doubt, the vocoder instrumentality is the best. It provides the ability to tune your vocals, not unlike an auto-tuner, to any note. The difference is, you can play it right there on your keyboard or program it in with MIDI notation. That means you're not just locking into key, but you can harmonize a single take with any inversion of any chord of your choosing on the fly. The sound possibilities are endless whether you are in the recording studio or live on stage.
As you can see from the image above, there are a lot of variables you can play with. When you find a preset or create one that you never want to lose, you can save it to the pad triggers to recall it immediately at any time.
As always, the screenshot above is only one of several user interfaces you'll have access to. The others include spatial effects like reverb, chorus, delays, and access to tons of presets to use or jump off from. You can't beat it.
Here's another video to give you an idea of what's possible with the Vocalizer:
There you have it. These videos only show you some of the possibilities, basically whatever the guy demoing the software decided to do in that moment. The truth is that there are no limitations. You're sitting in front of a fully automatable synthesizer with a vocoder. The sky is the limit.
These are my personal favorite plugins out right now. There are more, and that's not to say that the others can't get the job done just as well. But I love the compact and organized nature of these four as separate units and the synergy of when their end results come together.
There are two items I should mention along with the update I added at the start of this SONiVOX conversation:
1) The availability of these plugins seems to be decreasing lately. I'm not sure if it's a matter of restocking their distributors or if the numbers aren't working out for them business-wise. That's a plus for you since your competitors won't have access to these killer tools.
If you find them available when you look on Amazon, scoop them up. At this point they come and go, so don't wait around or they'll be gone before you know it.
2) I've seen several negative reviews on Amazon, Musician's Friend, and Guitar Center among the positive reviews. One guy on Amazon summed it up perfectly… and I paraphrase…
"The people complaining don't know how to use their DAW or their computer, and that's not the fault of these plugins." So heads up there, take most of that nonsense with a grain of salt.
NOTE: If you miss out on SONiVOX, check out Native Instrument's Komplete 10 suite of plugins and sound fonts. It will get the job done equally as well and expand you into a ton of other genres as well (great for enhancing your dubstep tunes).
And that's all I've got to say about that! Let's look at some out-of-the-box tools that can boost your productivity when cranking out dubstep instrumentals.
Dubstep Machine for in the Studio or on Stage
The beauty of those plugins above and any like them are that they pull all of the effects you need and place them together in one spot. But the reality is that any DAW is going to have all of those effects.
You just need to know which to use and how to automate them. Whether you use plugins or not is your call, but you can get to the end result either way if you're willing to grind it out.
With dubstep you're generally not assigning the same set of effects to a sound and keeping it consistent throughout the entire song. Your song is going to change constantly and rapidly if you want to pump out a banger that makes people's heads explode.
What this means is that you'll be taking the time to treat each one of your sounds with effects separately and possibly bouncing them once you've dialed it in just how you want it. I would do that anyways or at least save mixer channel presets so you can come back and feed it new MIDI data.
My point is that over time you'll generate a war chest of sounds. You'll invent your own private arsenal of dubstep weaponry that you can re-use on different tracks to establish your own style.
You'll never start from the beginning ever again. But recalling and playing all of these various sounds and effects is tricky, unless you have the right tools for the job.
Launchpads
Ableton Live, as we discussed above, focuses heavily on electronic music. Companies like Novation appreciate this fact and are creating tools specifically for electronic artists (which includes dubstep), such as the Novation Launchpad.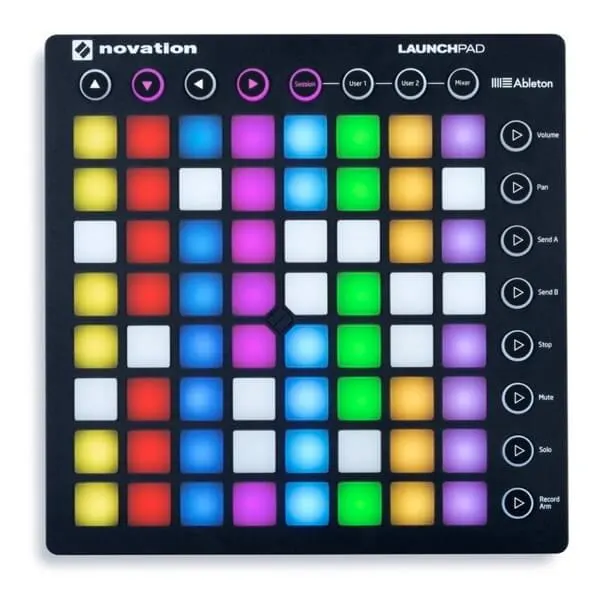 I was talking about bouncing your own sounds and creating your own mixer channel presets for effects. The Launchpad gives you a 8×8 grid of 64 buttons you can assign these sounds and effects to.
This means that you could play any of your own songs live or you could select any raw sound and pass it through one of your effect banks. Improvisation live, playing rhythms in the studio instead of typing them in with the mouse and keyboard, or just flat out practice is what this bad boy is for.
If you're at all interested in playing dubstep versus just creating it then you'll definitely want to consider a hardware tool such as this.
What's nifty is that since the Launchpad is built specifically for Ableton Live, its plug and play. You stick the USB cable in and you're good to go. You can use any preassigned sound kits from Ableton or invent your own.
You can go as far as to choose the specific trigger pad to use and the color of that pad so you can group them. They also light up brighter when the sound is playing so you have a double visual cue for what you're doing.
Some of us couldn't pound out a song on a grid of pads to save our lives, but we've been trained since children to play the piano. So if a 64 button grid intimidates you or just doesn't make sense for your skill set, consider a classic MIDI controller instead.
MIDI Controllers
Since we've already talked about Novation, let me tell you this. They make MIDI controllers specifically for Ableton Live as well. But don't feel like you're constricted to any specific DAW when it comes to controllers. They all will link up to any DAW.
Their only goal is to send MIDI data to your computer, such as length of the note you played, how hard you hit the key or pad, which note it was, etc. It's all of the data except for the actual sound, which you can then swap out and change and test different sounds within your song.
With that being said, check out the Akai Professional APC Key 25: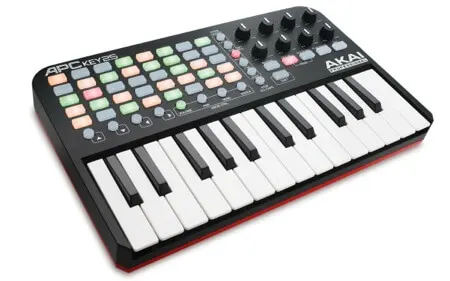 This machine, just like the Launchpad, is built to sync right up to Ableton Live, but will send it's MIDI data to any DAW or sound bank you'd like. You can use it with FL Studio, Logic Pro, Pro Tools, etc.
The nice thing is that it comes with 25 piano keys, or two full octaves. That's generally enough although you can find controllers with up to 88 keys! The reason I wanted to show you this one was that it also features a 5×8 grid of 40 trigger pads.
You can kill two birds with one stone here, although the pads are smaller and are going to require much more precision and accuracy if you're playing live. Imagine combining the keyboard portion of this with the Vocalizer plugin above and singing your lyrics live. Oh man, that's tasty.
The same seamless integration with Ableton Live works here, but add on 8 knobs that control your lead volume, volumes of your sends to effects and much more. You can jump up and down octaves on the fly too so you can quickly hop from ripping a lead solo to thumping out a killer bass riff and everything in between. Perfect for original compositions or a live remix under an acapella track.
Of course, these are two recommendations from among a sea of choices. These two are popular and welcomed due to the confidence the community has in them, but definitely look around and see if there's something else you like just as much or better when it comes to grid controllers and MIDI controllers.
There are other features you might like, such as including a gooseneck microphone into the controller for using a hardware vocoder instead of going through the DAW, etc. It's hard to anticipate what all you'll like or want. Luckily all of these tools hold up their value and you can always sell to someone else later on when you're ready to upgrade.
Beyond MIDI hardware, the trend in electronic music and dubstep in particular is leaning towards digital manipulation of the human voice and other instruments. To record these you'll need a solid microphone and the best audio interface you can find for clarity.
Now You're a Dubstep Maker!
As a dubstep maker, your number one goal is to create the songs that you hear in your head without limitation. You don't want to be limited to loops and buggy standalone software, which is why we aren't recommending the stuff everyone else is.
Those won't let you grow as an artist at all and it'll be quite embarrassing when your music friends and fans find out it was all loops. Every once in a while someone asks me if I know about any apps for their iPhone, iPad, iPod, Android, etc. I tell them to get real.
iOS and Android are not meant for these kind of tasks. If you really want to make music on a professional level, you need to be working on OSX or Windows. You want to use a real digital audio workstation that functions correctly so you can move forward with your art.
For the very same reason we suggest you use a plugin suite designed for the task. This will save you a lot of ramp up time whenever you sit down to create a song and will also let you play live, as will the hardware suggestions above.
If you don't know how to use a DAW and controllers, sure there might be a small learning curve, but nothing a week of tinkering can't cure. And then you'll realize why every other answer is junk.
Like my old grand pappy used to say, having the right tools for the job makes it get done faster, easier, and better. And if you intend to continue doing the job, in this case making dubstep, then it will serve you well to learn how to use the tools properly.
Take this advice and discard the other crap you find on non-reputable sources on the web, and you'll prosper, find eternal happiness, become a dubstep maker master, and win a few Grammy's… Guaranteed! (Editor's Note: Jared, you're fired.)