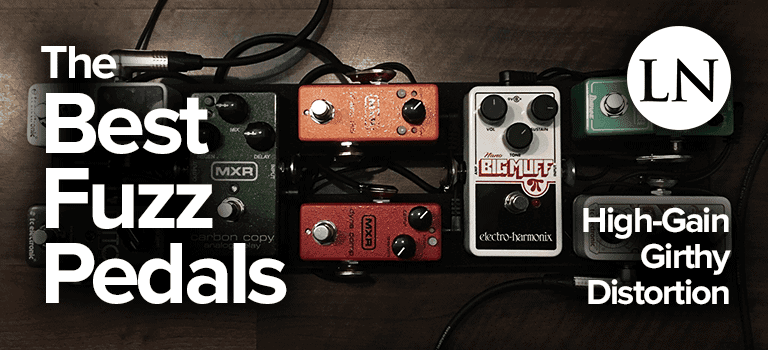 Click here to jump straight to the reviews!
Distortion and overdrive are all fine and dandy, but sometimes you want to really push it to the limit with some ripping fuzz. And by ripping I mean the sound of the woofers in your amp being torn to shreds.
In a studio in 1961, Grady Martin played through a faulty preamplifier and that song became a smash hit. Companies scrambled to recreate the sound, but things really took off after 1964 when Dave Davies of The Kinks literally cut his speaker cones to create a similar sound. From there it was all history.
The hard clipped, square wave sound of the fuzz effect can be considered distortion taken to the extreme.
One might be tempted to call this a vintage effect if the popularity of guitarists like Jimi Hendrix, who used a fuzz pedal heavily, and Robby Krieger from The Doors didn't persist to the point where current bands like The Smashing Pumpkins and The Beastie Boys are keeping the trend going.
We'll celebrate this fact by contributing to the discussion by first talking about how fuzz is generated and how you should use it properly. Then we'll cover the features you want to look for when considering a purchase.
At that point you'll be fully informed and ready to start your hunt, and that's when we'll introduce you to our top picks from the current line-up in today's modern market. Let's get started.
What is the Fuzz Effect?
The fuzz effect is a type of distortion characterized by hard-clipped wave forms. This "brick-wall processing" creates a very warm distortion that maintains its high-end frequencies, but adds what people describe as a hairy, wooly, a broken speaker woofer, or sounding like a swarm of bees.
Of all of the descriptions, the one related to sounding 'fuzzy' is the one that stuck. You've heard this effect used in nearly every genre of rock, metal, blues, and basically anywhere a guitar is featured.
If overdrive is light distortion, and distortion is normal levels of the effect, then fuzz is the extreme end. The amplitude is pushed so hard that not only is there hard-clipping, the wave form begins to resemble a square wave, and lots of complex overtones begin popping out aided by a frequency multiplier.
What to Look for in the Best Fuzz Pedal?
Fuzz is one of those effects where people get really elitist about solid-state versus tubes and silicon transistors versus germanium in boutique options. It's one of those "of course vintage is best, because older stuff is always best" lines of thinking.
I wouldn't worry about that, because the sound-defining guitarists like Jimi Hendrix and Stevie Ray Vaughan played solid-state fuzz as much as tubes. All you need to worry about is what it sounds like, because that's what your audience will be judging. These types of arguments are usually for people who can't play that well, so they blame or try to make up the difference with minutia related to gear.
I'd say the main question to ask yourself is if you're looking for a specific classic sound or if you want a pedal with a ton of knobs so you have versatility. If you want a specific fuzz sound, then determine which pedal produces it and get that one that specializes in the sound. Otherwise, you'll fare better with one that gives you options. Not every song calls for the same tone or effect.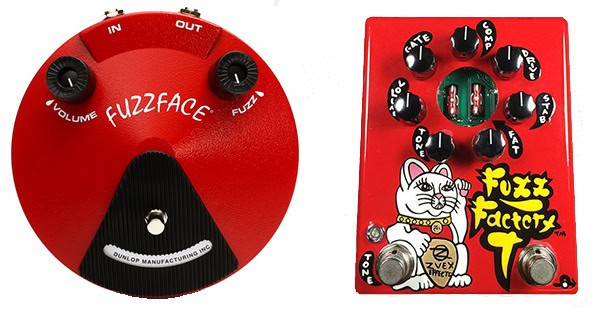 How to Use a Fuzz Pedal
Fuzz, as a type of distortion, has a natural place in the signal chain, but where is that and how do we know that's right? And by the way, how do we deal with all these knobs on the pedal? Let me show you.
Where to Place it in the Signal Chain
Unbeknownst to many, thanks to the dumb platitude of "break all the rules" in music, there is a specific order your pedals need to be in. This is defined by nature and logic and is more scientific than art-related. And it can be summarized like this:
Dynamics, Filters, & Pitch Shifters
Boost & Distortion
Modulation
Time
Fuzz is a type of distortion that needs to be fed your signal after you shape, clean, and tweak the waveform and frequency response to your liking. Because once you add in distortion, there's no going back.
And because modulation and time-based effects react to the signal you feed them, it makes sense to get distortion out of the way before then too. Use your compressor, equalizer, and pitch shifting first, then boost to feed your fuzz pedal the high gain it needs.
Understanding the Knob Settings
Although you'll find some fuzz pedals adding in an EQ stage and other nonsense, typically you'll have two or three knobs tops. The main one is the Volume knob (sometimes just called Fuzz or Drive) that defines the sound of the distortion by allowing you to drive it harder and thus chop the waveform harder.
You'll usually find a Tone knob that lets you sweep a shelf boost around to define the brightness. The Sustain knob does what you expect, letting you choose how long your notes ring on for.
Sometimes you'll see a Shift knob that gives you control over the mids so you can scoop or boost for more definition and warmth. Others will give you a Level knob that lets you control the gain at the output.
Some change the definition and will call the level knob 'volume' and call the volume knob 'fuzz.' That's easy to figure out once it's in your hands. The best fuzz pedal will never be confusing, so don't worry about it too much.
---
The Best Fuzz Pedals

Note: Each image and text link leads to Amazon.com where you can read additional user reviews, find specific technical detail listings, see additional product options and sizes, and make your purchase.
We've familiarized ourselves with fuzz pedals and what features to concern ourselves with. Now it's time to see what the market has to offer. All of the options below meet and exceed our expectations and thus aren't listed in any specific order (though we do split the best up by category at the top of the article).
These are the Best Fuzz Pedals Out There
Sometimes we can't play around with tame distortions. We need rip-roaring, hairy bumble bees in our speakers, nasty fuzz. But that doesn't mean we want to pay exorbitant prices for features we'll never touch that don't improve the sound. Just don't blame me for any blown speakers.
The above are the core, top shelf selection without the extra models tacked on over the years. Get back to basics, save a fortune, and make your guitar happy with our picks for the best fuzz pedals around.